Finding the right student accommodation for you is one of the many things to consider as a student, whether you're going to university for the first time or moving from one type of student accommodation to another.
With the numerous options available (university halls, private accommodation providers, staying at home and travelling to uni each day, to name a few!), looking for somewhere to live might seem like a daunting prospect, and something to keep putting off.
Our advice? Booking your accommodation as early as possible is the best way to go. We've put together some positives, myths and more to help you on your journey of booking student accommodation.
Whether you're entering your first year, final year, or studying for a master's or PHD, then Student Roost have properties and room types across the UK to suit you.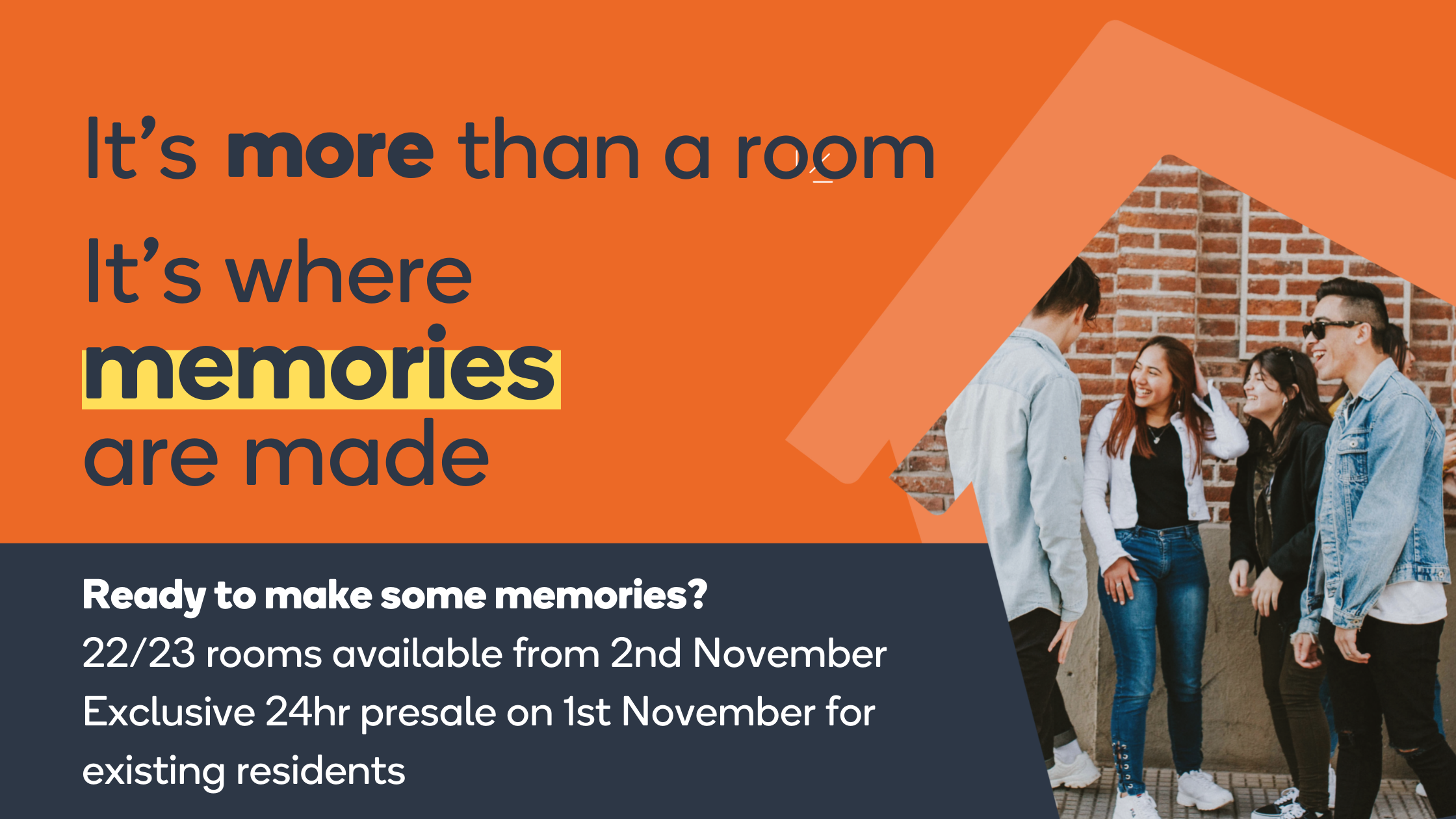 Is it too early to book student accommodation?
You might think it's too early to book your student accommodation now, especially if you're still submitting your UCAS application for the next academic year, but we promise you, it's not!
If you book early, you'll know that you've ticked one thing off your "things to do before uni" list, and you'll have peace of mind that your room is secure, ready, and waiting for you to move in to when the time comes.
If you're already at a Student Roost property, rebooking your room when booking opens in November means you can secure the same room you're living in now. You won't have to pack your things and move them, you'll know everything is safe and secure when you're away with our 24/7 onsite team members, and it'll feel like coming home all over again when you return from the university break!
Alternatively, if you're living with us and fancy a bit of a shake-up of your living situation, then you can check out the options and upgrade to a different room – again, earlier is better because you'll be able to secure your favoured room as soon as possible.
My friends say I should be waiting to book student accommodation?
What might work for your friends might not work for you, so you do you!
Other students will be looking at accommodation for the next year already, so certain room types and even whole flats will be going, going, gone sooner than you think.
If you're itching to get booking, have a chat with your mates about visiting some of our properties to get a feel for the place you might be calling home. You can even ask to see building and floor plans, so you can find a flat together where you know you'll be happy and living your best student life!
What are the benefits of booking student accommodation early?
Apart from the above? Plenty!
Getting ahead and booking your accommodation early means you might be able to benefit from paying no deposit at selected properties.
With thousands of students across the UK starting to look for accommodation now, getting your booking in early, or preparing to by visiting properties, will mean you have the best choice of room types to choose from. If you leave it any later, that gold studio you've had your eye on might not be available when you do come to book. Getting in early also means you can select the best flat location, so that sixth floor balcony view you've got your heart set on could be all yours!
If you're making a group booking with your mates, booking early will give you the best chance of choosing a flat where you can live together and make your Roost a home throughout your university years together. Ask our property teams for the best deals for groups of friends booking together.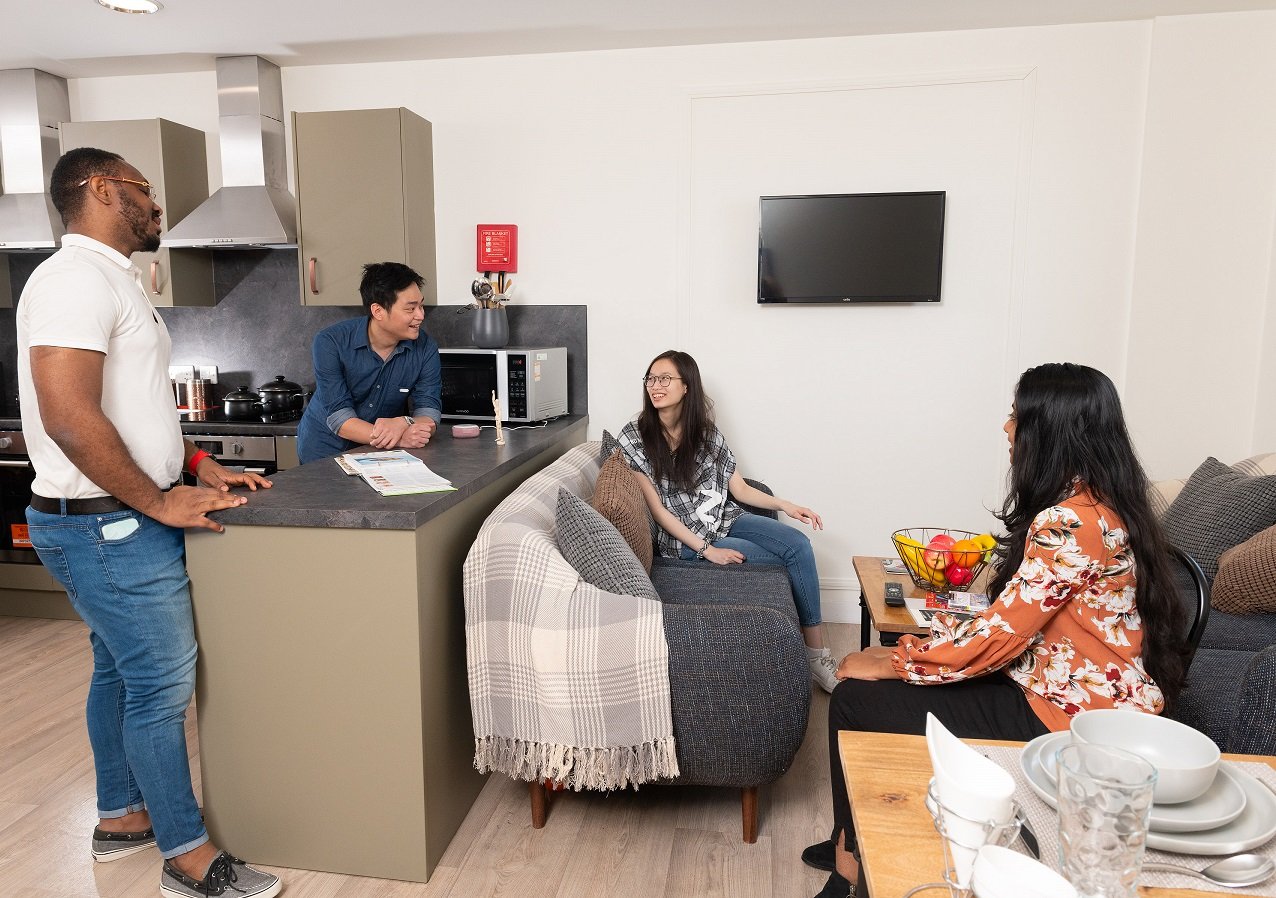 Booking student accommodation as a fresher
Are you a fresher next year? Booking early and not leaving it until the last minute will also help to ease those post-results day nerves when you're thinking "oh… I'm actually moving out and going to uni!" You'll know you've got the university place and the accommodation ready, and it removes any panic that you'll end up with a room you don't like because you left booking until the very end. Plus, with your accommodation sorted, you can use the time before arrival to focus on other things, such as getting to know your flatmates, collecting the essentials you'll need, or even booking a trip to the city where you'll be studying to explore campus or your accommodation, so you know exactly where you'll be going and what to do when you get there.
At Student Roost, you can cancel your booking with ease under our Cancellation Policy if your circumstances change, such as not getting a university offer, not being granted a visa, or if you change your mind and want to study in a different city.
You'll find Roosts across the UK, so if you've booked a room in Durham but have decided to study in Newcastle, for example, we can transfer your tenancy across to our Newcastle property depending on availability, so you'll be able to relax and prepare for university knowing you still have secured accommodation!
Ready to book student accommodation that's right for you?
We hope you're feeling more informed about when to book and if the time is right for you.
Remember, the key is to not leave it too late to make a booking. Doing it early means you can relax, knowing that your accommodation is booked, sorted, and ready for you to make it your home – wherever you're at in your student journey.
With over 50 properties in over 20 cities, we'd love for you to stay with us at Student Roost. You can speak to our property teams via email, LiveChat or telephone for further information, or visit us at our properties for a tour and to find out more about our Roosts!