A staple of the student calendar is festival season, offering the chance to dress up and have fun with friends while listening to your favourite music - whether you're the type to dance the night away with a cocktail in hand or enjoy a more relaxed vibe chilling with friends.
The UK festival scene has it all: this also means it can be easy to get overwhelmed by just how many festivals are on offer every summer – especially if you're a student with a limited budget!

With this in mind, we've put together a guide to festivals that are perhaps more suited to particular festival goers, to help make it easier to decide which festivals you should go for this summer. We've included some good old-fashioned British camping festival weekenders – but if pitching a tent is not for you (we see you, yurt lovers), there are also some day festivals scattered in this list too.

Take a look. Do you recognise yourself?!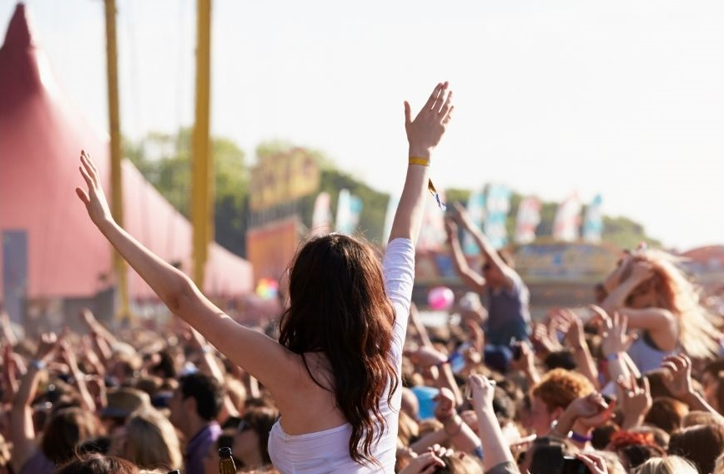 Dance enthusiast
Dance, sleep, dance, repeat? Carry glowsticks in a fanny pack and think the only colours worth wearing are neon? Hello there, dance music lover! Boogie the night away with friends and let loose listening to some of your favourite DJs and dance-centric artists at popular festivals around the country including Land Beyond Festival, Creamfields, Field Day and Defected. Don't let the beat stop – make the most of opportunities to bust a move with somewhere to crash at the end of a long weekend of dancing with summer student accommodation at selected properties.
Zen vibes only
If uninterrupted big-fish-little-fish isn't your style, a day of laughter, workshops and relaxation may be up your boho-chic alley. Relish in complete creative freedom at the likes of Suffolk's Latitude Festival, where you can let your curiosity run wild with limitless experiences including music, comedy, poetry, theatre and live podcasts. Green Man Festival and Camp Bestival are two other options where you can relax into the more chilled pace and acoustic sounds.
Big hitter
You might not have a specific genre or artist you really love, instead you heart the charts and are fond of all the hits that shape popular Spotify playlists. If this is you, then a big mainstream festival is probably more your bag – where you can sample a bit of everything across multiple stages from some of the biggest artists around. Well done if you've managed to get tickets to Glastonbury Festival, as it's always the hottest ticket of the year – but don't worry if not, Isle of Wight Festival and BST Hyde Park both bring line-ups your ears will savour. Get ready to join in for the big chorus!
Guitar hero
If rock riffs do it for you, then head to Download Festival or Reading and Leeds Festival for some guitar-crunching action from bands both old and new. Don't forget to check out the likes of The Great Escape in Brighton and Tramlines in Sheffield for more indie and alternative-leaning acts. If you're heading to the latter, don't forget to stop by our Sheffield student accommodation while you're in the city – we'd love to meet you!
City slicker
Love dancing in a field but like that field to be close to a train station when it's time for a shower and your bed? Some of the UK's biggest festivals are taking place in its biggest cities – everything from the party vibes of Lovebox in London and rapper-centric Wireless in Birmingham, to the comedy and arts extravaganza that is Edinburgh Fringe? And let's not forget the country's most popular LGBT+ event, Pride Festival in Brighton – just down the road from our brand new property Hillfort House.
Whatever festival floats your Hunter welly and face-paint ensemble, you can find the perfect base for next year's festival festivities at Student Roost. We're based in over 20 UK locations, so check the local listings to see what's on offer in and around the city you're studying in. And if you have tickets for an event this summer, don't forget we offer summer stay options or free early arrival at selected properties.