Fancy yourself as Gen Z's Mary Berry or simply love to rustle up goodies in the kitchen for you and your friends to share? It's time to impress your flatmates and show off your baking skills with some tasty treats.
We've picked our top five simple and easy bakes for students which also have minimal cost involved – so you can bake your heart out and treat your friends to one of these delicious creations. Or feeling competitive? Ready, set, bake off with your flatmates and see who comes out on top!
Don't forget, the shared kitchens and hosting kitchens available in our Roost student accommodation are perfect for a baking sesh, so make the most of the space – it's yours to use, after all. Check out the free-to-use hosting kitchen at Hollis Croft, below.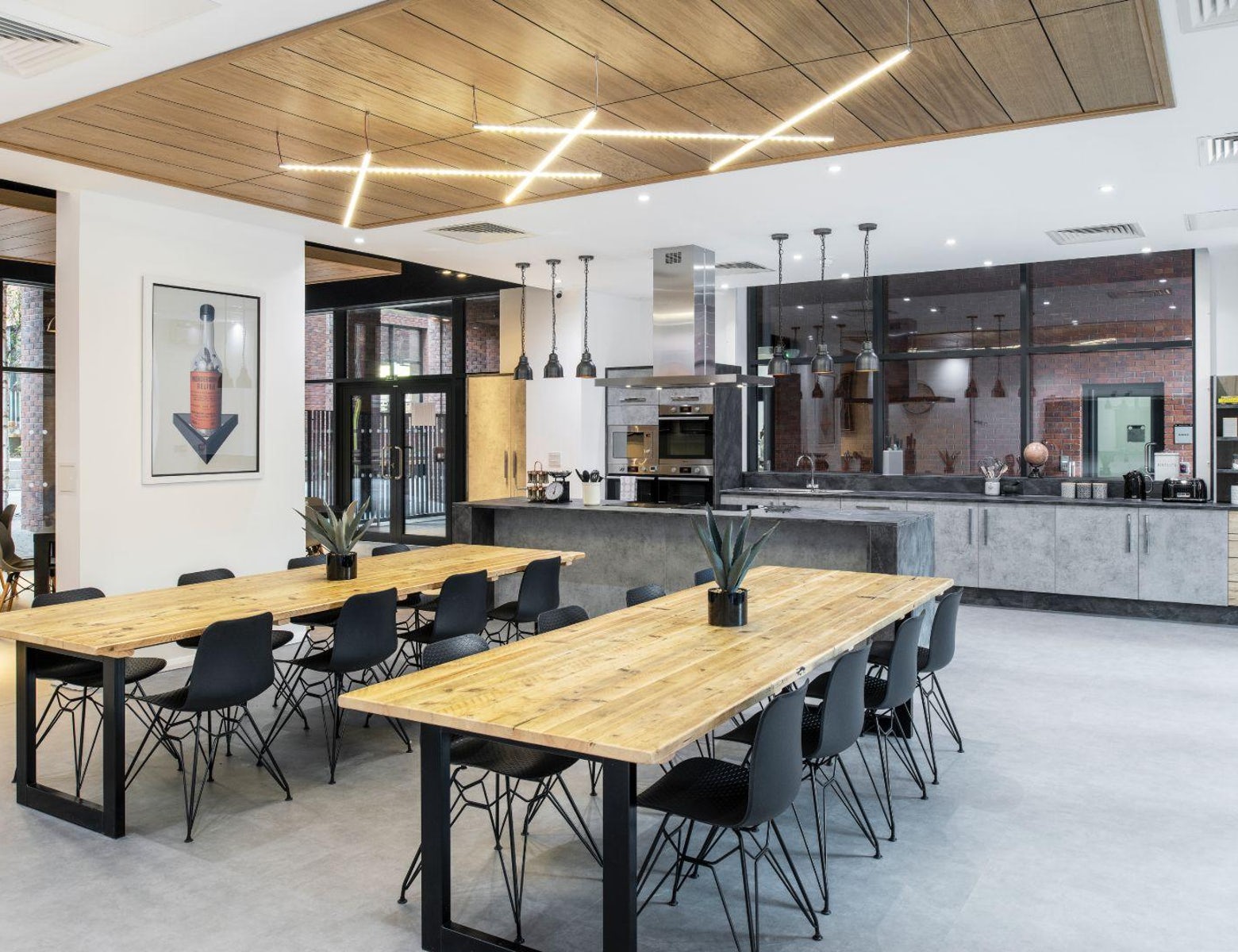 Our Top 5 student bakes
1. Pancakes
Has Pancake Day creped up on you? 😉 Whether it's Shrove Tuesday or just a regular weekday, make pancakes the star of the show and get ready to flip your pans. Alternatively, bake them in the oven to make them extra puffy but no less tasty.
Impress your flatmates with the classic homemade pancake recipe made up of ONLY four ingredients: flour, milk, eggs and vegetable oil. That's just the start, obviously: the real fun is the part where you and your flatmates get to choose your own toppings. Whether you're having them for breakfast, lunch or dinner, the selection is endless.
Get creative with friends and create your dream pancakes. Make a spread with a range of toppings to get the conversation rolling, learning more about your flatmates in the process. This can be anything from the classic lemon and sugar drizzle or enjoy a spread of Nutella, fresh berries, cream, honey, maple syrup, ice cream or peanut butter.
2. Chocolate chip cookies
They're a classic for a reason. An all-time favourite for students (and, y'know, humans of all ages), bake the best gooey chocolate chip cookies to enjoy with a hot bev and friends.
Better yet, feeling creative? Go the extra mile and surprise your housemates with a mix and match batch of your favourite cookies. This can be milk, dark or white chocolate or add a twist of cranberry, peanut butter, raisins, or your fave chocolate treat!
3. Fudge brownies
Not only are chocolate fudge brownies a crowd-pleaser with their rich taste and texture, but they're also so simple and easy to bake. No need for a mixer, all you need is a bowl, the ingredients and a pan and you're ready to go! The best part is that you can experiment by adding your friends' favourite chocolate bars into the recipe. YUM!
For an extra treat, heat them up in the microwave and add a dollop of ice cream to finish. If you're feeling super extra, add a few different ice cream flavours for them to choose from – including traditional vanilla, chocolate and strawberry to suit all or some wildcard flavours like bubblegum, black cherry and mango. Delicious.
4. Fairy cupcakes
Go back in time and indulge in some childhood classics by baking some of these delicious fairy cupcakes. An easy bake that can be done in no more than 40 minutes.
These small cupcakes are light and fluffy and can be enjoyed over lunch with a hot drink to complement. You can add your own frosting made to suit and add some sprinkles for that added sweetness. Have fun with it and see who can decorate their cake the best! Buy a range of cheap toppings from the supermarket including icing, sprinkles, mini marshmallows, chocolate chips and anything else you like so you can unleash your inner cupcake artiste. It's a great way to inspire some friendly competition and create memories with those you live with.
5. Feelgood flapjacks
Want to make something that can be enjoyed at any point in the day? Flapjacks are not only a great treat after a long day but also a great snack during studies and also a good breakfast option that will leave you feeling full and satisfied. The beauty of these bakes is that you can add your own fillings including raisins, banana, apple, chocolate, dried fruit, seeds or even ginger.
Your friends will love them, no doubt. Not only that, but they can also be stored for a few days, providing the perfect slow-release snack to be enjoyed before or after your week's lectures.