From en-suite bathrooms to having bills included in your rent, there are a range of benefits when it comes to staying in purpose-built student accommodation. But that isn't to say there aren't benefits to other types of accommodation too, such as student houses. Wondering what factors you should be considering when making your decision? If so, check out our handy student accommodation comparison below.
The top reasons to stay in purpose-built student accommodation
In the first year of university, most students will move into university halls. In the second year, some venture out into student house shares and student flat shares. What you might not realise is that by moving into purpose-built student accommodation, you can get the best of both worlds: the freedom and excitement of shared living, but with great facilities on tap, no hassle, and a responsible landlord who will ensure you always get the best service. So, what are the top benefits of student accommodation? From being purpose built to meet your requirements to having everything you need under one roof, find out why booking with Student Roost just makes sense.
Competitive prices with no rent to pay until October
Student life can be expensive – we've been there! At Student Roost we don't want to add to your burden, which is why we offer honest, competitive prices. There are different types of flats and rooms to cater for every requirement - from student flat shares with communal living spaces to self-contained studios with your own kitchen, bathroom and living area. And to top it off, when you pay by instalments, we tailor payment plans so that you're not charged rent until your student finance is in place, and we also ensure there are no hidden admin fees. We haven't met many private landlords who can say the same!
Flexible tenancy agreements
In student house shares, tenancy agreements can be quite restrictive and often last for a minimum of 12 months. In shared student accommodation from Student Roost, we understand things can change relatively quickly, so your contract is built for you, by you. Choose from a full year to just a semester in certain properties. With many of our properties, you can choose your own start and end dates. If you want to get settled in early or stay a bit longer, it's up to you. We'll even let you extend on a week-by-week basis. Some of our properties put on amazing events over the summer, or you may have a job in the city you live in, so it can make sense to stay over the summer! Alternatively, you can stay for the entirety of your degree – meaning you would never have to pack heavily when you head back home.
Skip the queue for the bathroom
We get it. Long queues for the bathroom can have knock-on effects, making you run late for lectures or miss big deadlines and exams. Maybe we're being a little dramatic, but in student house shares long queues are the likely state of affairs – not to mention running out of hot water! With en-suites in our rooms, you get the fun of sharing a flat with your friends AND your own private bathroom. Bliss!
WiFi, bills and contents insurance included
Shared houses may seem like a cheap student accommodation option, but that's not necessarily the case. Shared house bills can certainly mount up – everything from council tax, TV licence, electricity, gas, water and broadband will need to be paid for, so you can already tell it won't be cheap. We build it all in with your rent, so there are no unexpected surprises for you at the end of the month. You can sleep peacefully in the knowledge that you have hot water on tap and the heating on when you want – without the fear of a scary gas bill.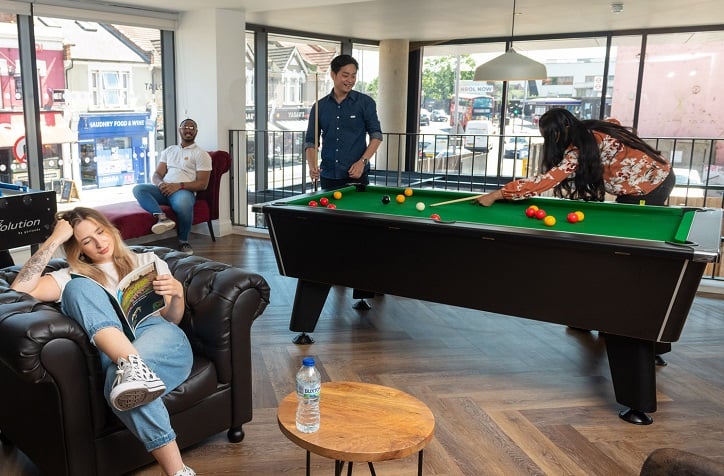 People to meet from all walks of life
There are simply more people to meet in halls. If you move into a house or flat you are likely to be sharing with a few people, but in halls you will have a huge pool of potential friends. And in each of our Student Roosts, we run a diverse social calendar, creating the perfect opportunity to make lots of new friends from all over the world. Handy if you've had enough of your immediate flatmates, just head to the common room or down the hall and hang out with some new friends!
Safety first
In shared houses, you are of course responsible for your own safety and security.In Student Roosts naturally we want to ensure you stay safe at all times - and as its one of our top concerns, we have a team available 24 hours a day, as well as CCTV and secure access arrangements. Put it this way, it'll help your parents sleep easier at night! Plus we include contents insurance – another reason for you and your parents to relax.
Everything you need under one roof
Shared houses can be a lot of fun – but they're not always situated close to universities, and are likely to offer limited amenities with no quiet study spaces. At Student Roost, you can meet your mates in the communal lounge, revise in the study room or let off some steam in the onsite gym (our facilities are site specific). We make sure we are in the best location to make getting to lectures on time (or getting into town) as easy as possible. And we have in-house laundry services too – so no waiting around at the launderette or forgetting about your damp clothes! Purpose- built student housing is made to allow you to get the most out of your time at university, in terms of both studying and enjoyment.
At your service
In every Roost, we have a team of people on hand to help. Someone to let you in if you get locked out, someone to sign for your parcels, someone to fix broken equipment - whatever you need, we'll help get it sorted – even down to changing your lightbulbs. In a Student Roost building, you don't need to worry that the garden is overgrown or if there's a dripping tap, we literally look after it all. You can even pop down for a cuppa and have a natter with one of our friendly members of staff.
So, there you have it. You will always have options and we know different set ups work for different people – but rest assured that if you choose purpose-built student accommodation with Student Roost, we can guarantee a great experience. If anything ever does go wrong, and we know that things do happen, you're not alone. We're always on hand to help – it's one of the main benefits of student accommodation with us.