Are you making the move to uni this year? Former first year student and Mannequin House resident Anna Langston shares her story, which shows how leaving your childhood home for the big city presents exciting new opportunities and a newfound sense of independence.
I've never moved house before. I've lived in one little Victorian terrace near Manchester all my life, remaining in the same bedroom for 14 of my 20 years. So, my decision to move to London for university was one met with a combination of scepticism and fear by my parents.
"What about the tubes? You'll get lost all the time!" was my Dad's constant remark.
"How about it if you don't like your flatmates?" I was round at my friend's house, a cup of tea going cold in front of me. "My cousin's in Sheffield, and she said…" Her words trailed off as she saw I had gone rather pale. "I'm sure you'll be fine. Let's just hope there are no rats in your kitchen!"
I'd done the customary Ikea trip; packed and repacked my books (each time somehow accumulating more for the 'must bring' pile) and bought enough fairy lights to put Santa out of business. I'd cleared the local Sainsbury's stock of pots and pans, and had managed to make a very haphazard expenses tracking document.
By the time September rolled around, it was fair to say I was nothing short of terrified. I remember the drive down to London; my parents and I hurtling along the M6 with a car so packed it was a miracle we could move at all. "I've never even heard of Walthamstow," I pondered. "Google says it used to be in Essex!"
It was soon clear that I should not have worried.
I was the first one in the flat, but someone moved in the next day. We had chatted a bit over Instagram as we were going to the same university, and decided to attempt a veggie spaghetti bolognese together in our half unpacked kitchen. I'm not joking when I say that by the end of the first week, she felt like a friend.
Our other flatmates came in dribs and drabs, and before we knew it, we had a group chat and were having 3AM conversations about home, our subjects, religion and everything in between. We were all nervous, all homesick, but we were together. We hammered on each other's doors and flopped onto each other's beds, panicking about essay titles and what bombshell might be dropped by Boris Johnson when we had turned on the news. I got incredibly lucky with who I was paired up with – some of us are even living together next year, too.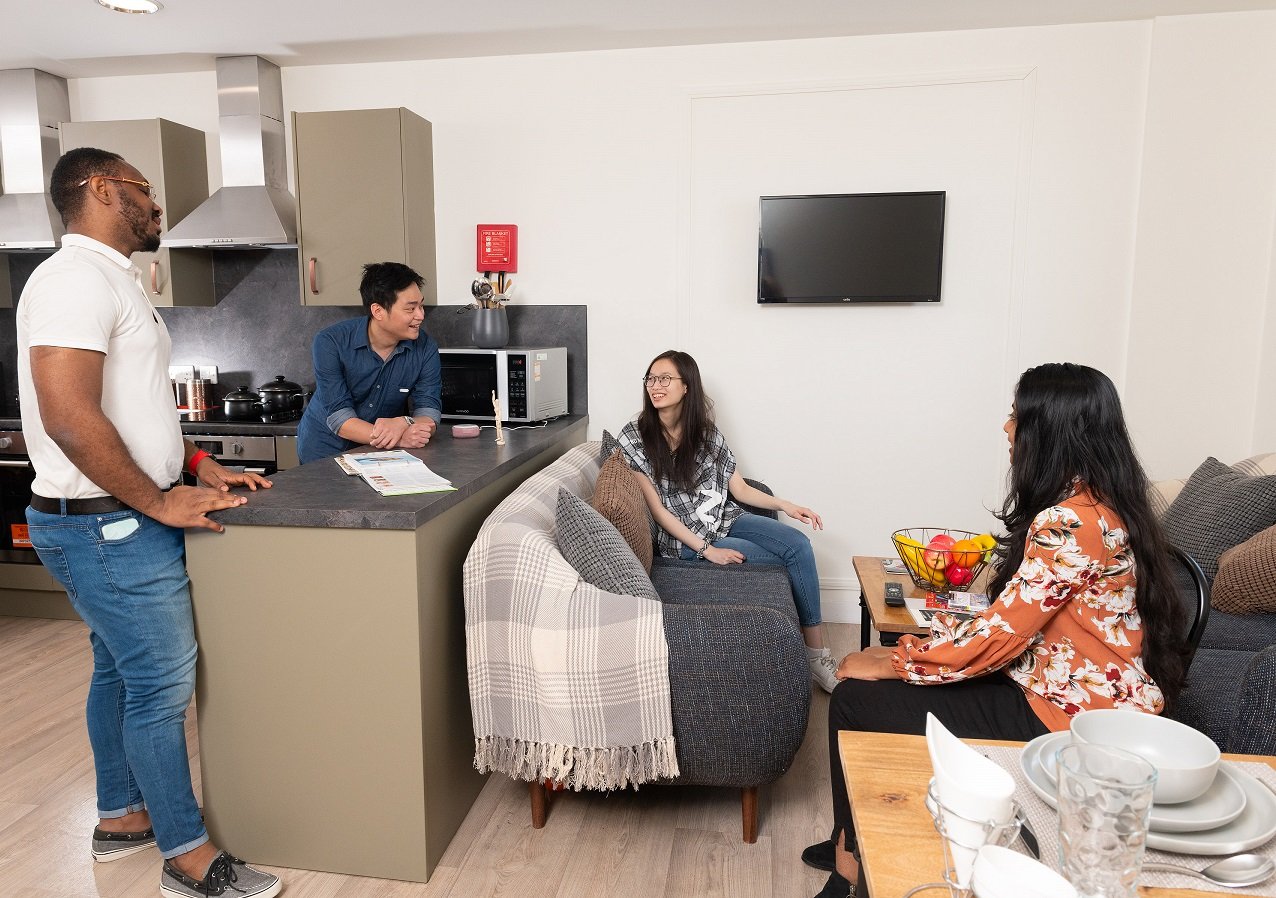 My room had enough storage space for everything, but perhaps more impressively, the bookshelves were big enough to house pretty much every book I brought with me. Within not much time at all, the flat felt like a second home.
It took some work getting my head around little things like the laundry system, parcel collection and monthly rent, but after I had mastered all that, it was a pretty smooth ride. The Wi-Fi was fast, the staff were supportive (one of them once spent a few hours helping me set up my new laptop as I panicked it wouldn't be ready for online lectures and I was still struggling with LinkedIn) and the kitchen had plenty of room for our friends to pop over before the restrictions were enforced.
The location was no problem either: 20 minutes on the rapid Victoria Line and you emerge at Oxford Circus in the bustling heart of the city. My friends and I have become loyal advocates of the Victoria Line, and I firmly believe it to be the best in London by a long way.
If you head out of reception, turn right and walk for 15 minutes along a well-lit main road, you'll find Walthamstow Central, with the usuals: Wilko, Lidl, Sainsbury's and Farmfoods, but also the street market, which everyone is careful to tell you, is the longest in Europe. These stalls sell every kind of fruit and vegetable imaginable (I had to look a few of them up as I had never seen them before.)
Walthamstow Wetlands are a 15 minutes walk away from Mannequin too, and during the second lockdown in which I was staying in London, I was there pretty much every day with a book or a podcast. It kept me relatively sane, being able to walk among the little reservoirs and along tiny stone trails. Discovering the little coffee shop near the nature reserve's entrance was a bit of a game-changer! Lea Valley Park merges onto the Wetlands, which is another great place to go exploring. Wandering through fields and pottering by the canal, it is possible to forget you're even in London. If you fancy a bit more of a trek, I recommend walking along the canal to the 2012 Olympics Elizabeth Park. There are so many little independent cafes, charity shops and bars nearby, Walthamstow honestly feels like its own little town.
If you're nervous about moving to London and aren't sure where to look, I really recommend you consider Mannequin House. The rooms are bigger than most other places I looked; the prices are good; the courtyard is a really nice space and it is ideally located – far enough out of the city to feel like you're not drowning among skyscrapers, but less than half an hour away from the bustle of Central London.
Are you a first year looking to move to London for uni, or already studying in the city and fancy a change of accommodation? Our London accommodation has been voted among the best in the city by TravelMag, so check out what's on offer at Mannequin House and book a viewing to learn more.