There's something to be said about having the peace and freedom of your own bathroom. We've all heard about the shared bathroom horror stories and the wait for a free shower. Worried about sharing a bathroom at uni? Fear not – Student Roost have en-suite student accommodation to suit your needs.
En-suite student accommodation
At university, the one thing you shouldn't need to worry about is being late to a lecture because you haven't been able to jump in the shower or because the toilet stall has been locked for the past half an hour.
At Student Roost, that's not something you'll have to worry about. Whether you're looking for en-suite student accommodation in Leicester or an en-suite studio in Bournemouth, you'll be able to rest easy that you can wake up and go about your morning routine without having to think about others.
Discover the joys of en-suite student accommodation, the answer to the question 'what are shared bathrooms like at uni?' and some handy uni bathroom ideas with our complete guide on whether you should opt for en-suite or shared bathroom during your time studying.
En-suite or shared bathroom?
If you're wondering whether to opt for a shared bathroom at uni or if en-suite student accommodation will be right for you, there are a few key things to consider. So, what are shared bathrooms like at uni?
In shared bathrooms, you will have a number of other students all vying to use the bathroom facilities – often at similar times. This can cause issues in a morning, especially with all of your housemates trying to get ready for the day ahead. All of this usage will of course contribute to the overall condition of the facilities, meaning cleaning and maintenance will be vital – depending on how clean your friends are.
En-suite student accommodation offers you the convenience of your bathroom being yours, and only yours. There's no waiting around to use the facilities if you're running on a similar schedule to others, there's no fumbling down corridors during the night if nature calls, and you're responsible for cleaning up after yourself.
A shared bathroom is likely to be bigger, due to the number of people who need to use it – but with a shower, sink and a toilet in an en-suite studio or room, the only thing you'll miss out on is a long, leisurely soak with bubbles.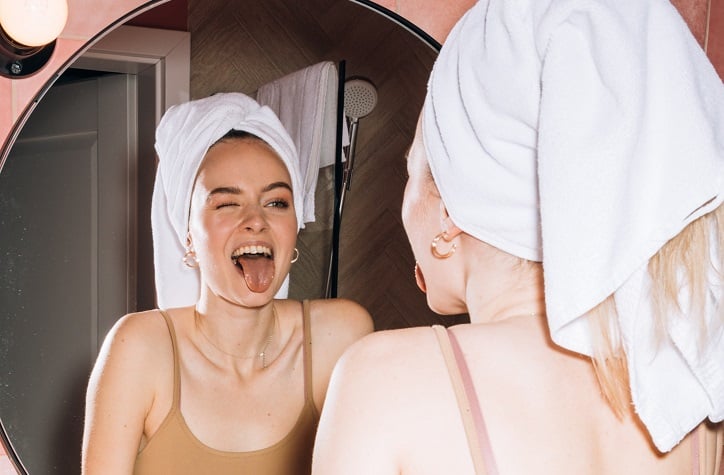 Uni bathroom ideas to make yours more homely
Have you recently moved into en-suite student accommodation? Or are you considering your options and looking into whether en-suite or shared bathrooms are for you?
With en-suite student accommodation, you're able to make your en-suite studio yours, personalising the bathroom to suit you. We've prepared some uni bathroom ideas to help you find comfort in the privacy of your own space. At Student Roost, our bathrooms will need minimal decorating – they're already stunning! But here are a few finishing touches you can add to inject your own personality:
Towels
Personalise your bathroom experience with towels you can't wait to get into once you're out of the shower. A number of shops sell towel sets, hand towels, flannels and full-body towels – but Primark might be the best option for an affordable, quality product. Patterned towels or different colours can certainly look a bit more exciting than the plain white options.
Storage
Find a place for all of those products. Plastic boxes, wire baskets or carry trays can all offer exactly what you're looking for to keep your routine all in one place. There's even the option to pick up things like soap plates or holders for your toothbrush, toothpaste and other dental hygiene products. You're saving space and stopping unnecessary mess!
Succulents
Plants can definitely add some colour to a bathroom, and they help to provide that homely feeling. Grab a few fake succulents to put in various places around the room – meaning that you can leave them there and forget about them without the anxiety that you've forgotten to water them.
Bath mat
Much like towels, a bath mat is a great way to personalise your bathroom experience. You can even match them with your towels for that all-in-one stylish look. Of course, there's a safety benefit to a bath mat too – saving you from wetting your floors and potentially slipping when you step out of the shower.
Toilet games
Now we know sometimes these are given as stocking fillers at Christmas or gag gifts at birthdays, but toilet games can be a load of fun when you're living alone. Instead of sitting reading your phone or the back of a shampoo bottle to pass the time, find a toilet game that suits you. We've spotted sudoku toilet paper and toilet golf in the past – or you could truly make your bathroom a carnival with a ring toss game!
Has the freedom of en-suite student accommodation got you settled on how you want to live next year? Browse the en-suite studio options and more by taking a look across our locations before you book with confidence today.