As Christmas approaches, the festivities begin – but figuring out what to gift can be a source of stress, especially if your student loan is beginning to wear thin. Stretch your student loan further this Christmas, with a range of homemade Christmas gift ideas for students to make from the comfort of your student accommodation.
From easy homemade Christmas gift ideas for parents, to ideas for homemade edible Christmas gifts, we've prepared a guide to the best affordable Christmas gifts you can make yourself.
Great Christmas gifts to make at home
Settle into your student accommodation and get your creativity fired up, it's time to make some affordable Christmas gifts that your friends and family will enjoy.
Homemade Christmas gift idea: Infused olive oil
If you've ever been to a farm shop or some supermarket chains, you'll likely have seen infused olive oils – something that can add an edge to your cooking. The bottles are often in gift sets, which can be quite expensive in shops.
Pick up some olive oil, garlic, chilli, fruit or even herbs and spices, and a few cork-topped glass bottles, and you're good to go. Simply fill the bottles with the oil and make each bottle have a distinct flavour to it that can really boost a foodie's favourite dish. You'll need to set aside some time for the oil to infuse – but it's certainly one of our favourite gifts to make for Christmas.
Homemade Christmas gift idea: Marble-dipped mugs
This is an easy homemade Christmas gift idea for parents or older relatives if you're struggling with ideas for gifts to take back home. In fact, you could give these marble-dipped mugs to multiple people – as each one will be different!
Grab a few disposable oven cooking trays and fill them with two to three inches of warm water, or more if you'd like the design to reach higher areas. Make note of the water level if you want the height to be the same each time you make these.
Find some plain mugs from a shop, and some nail polish, and you're good to go. Add the colour of the polish into the water, before swirling it around with a toothpick or skewer, and then quickly dunk your mug into the mixture – straight down and straight up – until you've achieved the look you're going for.
What an easy, great Christmas gift to make at home!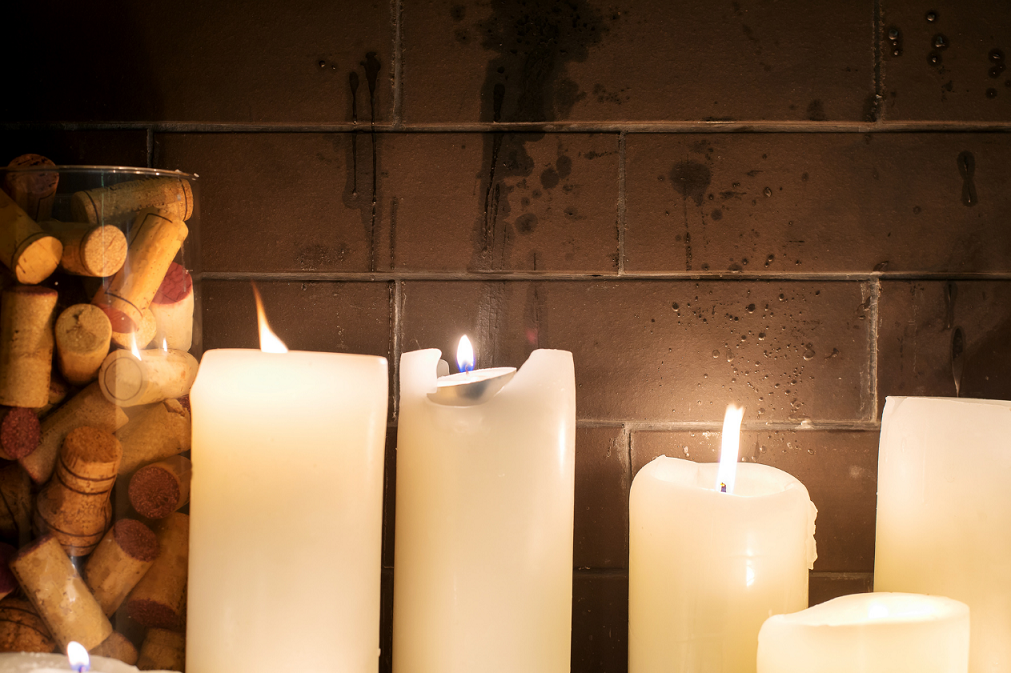 Homemade Christmas gift idea: Pringle tin candles
Head out and see if you can find some candlesticks or wax in funky colours and chop them up. Put them in a old pan on heat (don't use a new one unless you're willing to ruin it) to melt, alongside a few scented tealights which will add just a hint of a smell when the end result is burning.
Grab a Pringles can (or three) and empty the crisp contents – preferably into your stomach – and then wash the can out and allow it to dry.

Flip the tube upside down, before carefully making a hole in the centre and threading your wick through. Flip it back around, get an ice lolly stick and make a hole in the centre of that, as that will be used to keep the wick central inside the Pringles tube.

Seal the hole at the bottom with blue tac to make sure it doesn't leak out – leaving a decent length of wick sticking out.

Then, pour your wax mixture into the tube and leave it to allow a skin to form, before putting it into the fridge to solidify.
Then it's a case of getting the candle out of the tube – either by ripping the tube or very carefully squeezing the candle out, cutting the wick down to size, and voila, an affordable Christmas gift.
Homemade Christmas gift idea: Cashew nut brittle
Looking for ideas for homemade edible Christmas gifts? These salty and sweet slabs of cashew nut brittle are easy to make, and the perfect edible Christmas present.
You'll need 300g of cashew nuts, 300g of caster sugar, butter and sea salt flakes for this gift. The recipe is simple, just:
Heat your oven to 180°c and toast the nuts on a baking sheet for 5-10 minutes, tossing them regularly until they're brown.

Then put the sugar, butter and 125ml of water in a pan and heat until melted – before turning the heat up until the mixture is a bubbling golden brown.
Make sure you stir it frequently, but once you feel it's ready, remove it from the heat and pour it straight over the cashews. Sprinkle generously with the sea salt flakes, before letting it set, breaking it into shards and packaging it as a present.
Ideas for homemade edible Christmas gifts? Sorted.
Homemade Christmas gift idea: Gift card envelopes
If you're not too into the gifting process and prefer to get gift cards for your loved ones, make a bit of festive effort and make a Christmas envelope to house it in. It's minimal time and effort but looks great and we're sure those receiving it will appreciate it!
You'll need scissors, card, envelopes, and glue dots – and you can make any style, from Rudolph to Christmas trees, or even Santa Claus if you're feeling a little more adventurous.
It's an easy gift to make for Christmas, and it isn't even really the gift. A little bit more effort can go a long way.
Affordable Christmas gifts made easy
That's just a handful of some of the affordable Christmas gifts you could make this year or next. There are plenty more out there, with tutorials on YouTube and in other formats, which can save you time and money. Check out our guide to gift-giving on a student budget for more ideas that won't break the bank.
Think one of our student accommodation locations could be the perfect base for your creative Christmassy exploits? After all, our accommodation is more than just a room – it can be your creative haven.
In our studio and en-suite rooms, put the 'home' in homemade during advent. Rooms for next year are available to book now.